Since March 2020 we have been missing out on all the fun & community spirit that come hand in hand with our FOSC events, which means that we are also unable to raise much needed funds for our lovely school.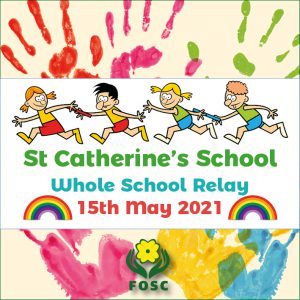 Following on from the huge success of our Whole School Relay last year we have decided to do it again. On Saturday 15th May!
We are inviting all children and their siblings to take part in a Ware wide relay (socially distant if necessary) taking in all their houses along the route! Children can either run, walk, cycle or skip their way from their home to the home of a nearby St Catherine's pupil, passing a baton (depending on guidelines this could be virtual or actual)  for the relay to continue.
We are asking £2 per child to take part.  Follow this link to sign up.
https://www.pta-events.co.uk/foscware/index.cfm?event=event&eventId=35270#.YEju6mj7Q2w
We are also asking that you ask family and friends to sponsor the children and to cheer them along on the day.
This is the link for our sponsorship page.
https://www.kindlink.com/fundraising/ST-CATHERINES-SCHOOL-PARENT-TEACHER-ASSOCIATION/wholeschoolrelay2021
Our aim for this school year is to help raise money for a new school minibus.
With the money we raised last year we were able to purchase 60 brand new Chromebooks for the children which arrived in school in the Autumn.  This is an amazing achievement in the circumstances so thank you all so much for helping us reach this goal.
St Catherine's isn't just a building that we learn in, but a fantastic community of children and parents who can come together to create an event to be proud of. What a fantastic thing they will all be doing, and to help the Friends of St Catherine's to continue our fundraising in these difficult times. Thank you so much.