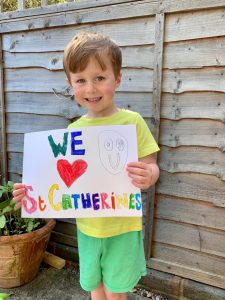 FOSC wanted to focus on our fabulous school community as we are missing school life and friends.   We decided to try to put together a message/photo or picture from the whole school (or as many children as possible) to create a fun video to share with the staff to show our appreciation for all they do. Its been a difficult time for everyone and we imagine the staff are missing the children and normal life as much as the children and parents are.
Last Friday (15th May), we reached out to as many families as we could and asked for messages for our Hello Video.  This is the end result.   We hope you like it!
https://www.youtube.com/watch?v=O8T7yBTxsYE
Happy Half Term Holiday Everyone !!